Hosting Custom Css and Js Externally with StaticSave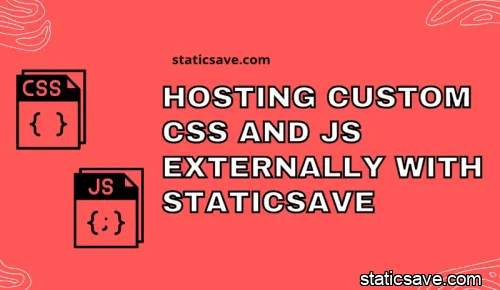 Using custom css and js to customize your Website can help create the website of your dreams, but what do you do if you need to host and edit these files externally? Looking to keep your custom css and js separate from your website's main files?
Look no more, checkout StaticSave to host your custom css and js externally. StaticSave is an online service that makes it easy to view and edit your custom css and js files from any browser or device. It is very simple to start.
Advantages of hosting custom css and js externally
Hosting custom css and js externally on StaticSave offers many advantages for developers. You can edit files directly from StaticSave without editing from your website server. This means that you don't have to worry about FTP or SSH access, you can manage your css and js files directly on StaticSave.
Getting started with StaticSave
You can get started with StaticSave by signing up for an account and create css or javascript pages of your wish. Paste or type your code on the filed provided and submit for save. Thats it, its so easy to host your css, js, json, txt and xml files online. And that too for free.
Adding css and js hosted on StaticSave to your website
You can later include the links to the css, js files to your website. After that you an edit the code content within the StaticSave website without the need for logging to your website's server.
Easily update your custom css or js files
In StaticSave dashboard, you can easily update the custom css or js code whenever you like to make changes. We allow easy updation of the hosted content without any problems.
Published on: 20-Jun-2022