Hosting .JS file online for free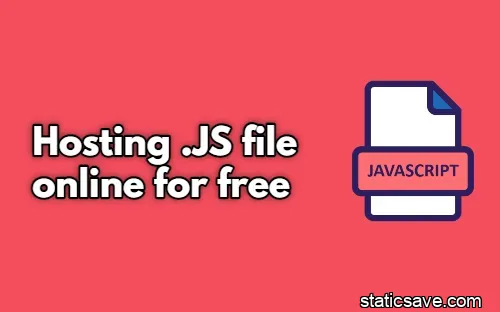 JavaScript, sometimes known as JS, is a coding language that, together with HTML and CSS, is one of the essential technologies of the World Wide Web.
With the help of Javascript you will be able to create interactive webpages easily with responsive interfaces and dynamic functionalities that you need in your application.
Hosting javascript files online made very simple with StaticSave. All you need to do is to paste and submit to save inorder to host the javascript content online.
Javascript hosted by users on Staticsave can act as an external javascript file which you can be used in your staging web development process for testing purposes.
With the free plan on StaticSave you can host a certain amount of javascript files without paying anything.
StaticSave is a great place to test your javascript files online, it can act as a playground for testing your javascript codes.
While saving your javascript files, we make use of .js file extension at the end of the URL to easily distinguish your file type.
And javascript hosting on StaticSave helps you to load your script faster without much delay.
Why should you host .JS file on StaticSave?
First-of-all, It is free to start.
The content is saved on highly available servers.
You can easily update the content whenever you want.
Hosted .js file will load fast without any delay.
Furthermore, the service is really simple to use; simply paste the code for your .js file and we'll provide the URL where it resides. The entire procedure takes only a few seconds.
Published on: 14-Jun-2022